Top Wardrobes Ireland FAQs Answered
Looking for a wardrobes in Ireland? Discover popular styles, from modern to classic, to suit any space and storage need. Shop now for great deals!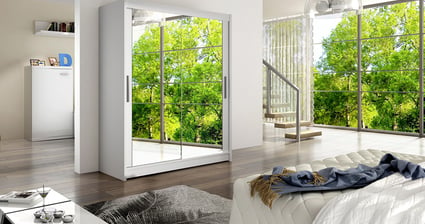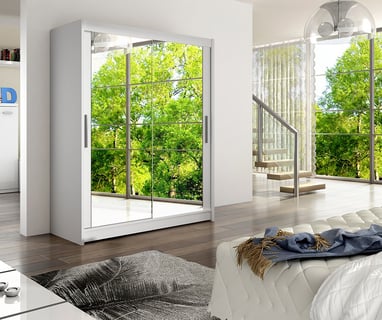 Wardrobes 101: A Guide to Common Questions in Ireland
Why is it called a wardrobe?
Without a doubt the term "wardrobe" is derived from the Old French word "garderobe," which referred to a storage area for garments. In the 14th century, the term was first used in English to describe a room where clothes and other personal belongings were as we belive stored behind the door.
In short the term "wardrobe" came to specifically refer to the piece of furniture used for hanging and keeping clothes over time, and it is still widely used today.
What is difference between closet and wardrobe?
As we see it, closest are smaller, enclosed space for keeping things in general, whereas a wardrobes are larger pieces of furniture used for hanging dresses or suits. Closets are frequently built into a room's walls and may include shelves or drawers for storing folded belongings, shoes, and other accessories.
Wardrobes, on the other hand, are typically freestanding furniture pieces that can be moved freely around a room as we think. They may have one or more doors that open to reveal a clothes rails as well as shelves or drawers for extra storage.
While the terms "closets" and "wardrobes" are normally used interchangeably, they refer to different types of clothing storage spaces as we thinking.
Are wardrobes American or British?
To the best of our knowledge, we strongly belive thet in both American and British English, the term "wardrobe" is used. While there may be some minor differences in how the word is used or pronounced in the two of English, both countries generally understand the term "wardrobe" to mening to the same piece of furniture.
We're focus on wardrobes Ireland as we selling them hear. There's a wide selection of modern sliding doors, traditional wooden wardrobe, bedroom wardrobes, in our online shop. We are delivering in whole Ireland (Cork, Dublin, Galway, Donegal). When you decide to buy a new wardrobe, browse our website and check stock wardrobes to choose a good quality and a high functionality one. We have variety of styles. Knowing the dimensions of your space, room size - you'll easily choose the right wardrobe. Choose the colour and model and check if it's in stock.
What do British people call wardrobes?
The term "wardrobe" is the most commonly used word in British English for the piece of furniture used for hanging and keeping clothes. Wardrobes can also be referred to as a cupboards or robes or slide ropes, though these terms are less common as we belive.
In general, both American and British English use the term "wardrobe" to describe this type of furniture, and as we understood to meaning to a larger piece of furniture used for hanging for example dresses or suits, as opposed to a smaller, and space like a closet we think.
Do British people say closet or wardrobe?
While the term "wardrobe" is the most commonly used term in British English to describe the piece of furniture used for hanging and keeping clothes, the word "closet" can also be used to refer to this type of storage space in our homes.
However, the term "closet" is used less frequently in British English than in American English, where it is used to describe both small, as we beliver spaces and larger pieces of furniture for your clothes in our homes.
What is the difference between wardrobe and walk in closet?
We can tell, a wardrobe is a freestanding piece of furniture that is used to store clothing in our homes. It usually has one or more door that open to reveal a clothes hanging rail as well as shelf or drawer for additional storage. A walk-in closet, on the other hand, is a larger space that is typically built into a home and is designed for clothing storage and dressing.
We maintain it, walk-in closets come in a variety of sizes, but they are typically larger than standard closets and may include built-in features such as shelve, drawer, and hanging rail. The primary distinction between a wardrobe and a walk-in closet is size and level of customization.
A walk-in closet is a larger - this is why - built-in space that can be customized to fit the homeowner's storage needs and personal style, as diferent to a wardrobe, which is a single piece of furniture that can be moved around free space.
In our judgment, for bedroom both are good solution. However choosing the one with the door it's easier to hide undesirable clutter.
How many clothes are in a wardrobe?
In our view (we try to count), the number of things that can be stored in a wardrobe by the size and design of the wardrobe, as well as the type of clothes we have. A smaller wardrobe may only hold a few items, whereas a larger wardrobe with multiple compartments and hanging rails may be able to hold a significant amount of clothing.
Furthermore, how clothes are arranged and folded may influence the number of things that can fit in a wardrobe. Before making a purchase, consider the size and storage options of a wardrobe, as well as your personal storage needs and preferences.
What are the types of wardrobes?
Freestanding wardrobes - These are wardrobes that can be moved around and are not attached to a wall - we have lots of them in our shop:) . Traditional oak bedroom wardrobes or more sophisticated styles for subdued bedroom. Many stores meet the expectations of customers offering many colours ( popular grey, black or grey). Choose the best colour that suits you to your decor . We have a lotsof styles in stock .
Fitted wardrobes are custom-built wardrobes with door that are often built into the wall and are designed to fit into a specific space in your home.
Sliding door wardrobes have door that slide open and closed instead of swinging outwards like traditional hinged door. Contemporary traditional oak door are abandoned in favor of grey or white sliding door system with the mirror on it.
Walk-in closets are large, no door, open spaces designed to be used as a dressing room, with clothes and accessories stored on shelves and hanging rails. Many people prefer open spaces for keeping their things.
Built-in wardrobes are wardrobes that are built into a specific area of your bedroom, typically between two walls or as part of a fitted furniture set.
Mirrored wardrobes have a mirror on the front of the doors, which can help to make a small space feel larger and more open.
Corner wardrobes are wardrobes that are designed to fit into a room's corner and are often triangular in shape to maximize the available space.
Create your perfect bedroom
Basically, style or colour is important choosing furniture for your home. Contemporary the grey colour is the most popular.
In our experience, to assembly our sliding doors you need minimalist fittings. They are made of good quality material, equipped in the sliding doors system. You can transform your guest room or bedroom for a little money in modern interior. You don't have to keep tight the instruction assembling interior - you can create the one that you need. We advice you to add shelf if you have a lot's of t-shirts or trousers, drawer for socks and underwear, hanging rail for many dresses or suit.
Please, visit our online store to check our offer for bedroom wardrobes, traditional or new that we have in stock. Choose the size ( 100, 120, 150, 180, 200 or 250cm wide), colour ( black, white, grey, sonoma oak or choco) and door (with or without mirror) that you like and enjoy your new bedroom.